Sub-divisions & Furnishings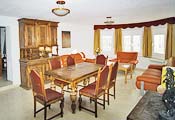 With its sunny, quiet, and central location, the estate is completely isolated. It is surrounded by a high natural stone wall that provides it with complete privacy, thus converting this villa and its 2 levels of residence into an ideal vacation oasis.
An ambience of style is provided by a tasteful and above-average design that includes a mixture of antique closets and modern leather trimmings, pictures, curtains, and lamps as well as new kitchens equipped with all the necessary equipment and tableware you may need.
The rooms have modern baths, some of them with double wash basins.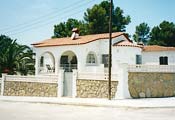 The foundation for a comfortable nights rest and good relaxation is provided by wide, modern beds (1.8 x 2.0m) and good mattresses.
Villa Laura's built-n warm water heating system provides you with a comfortable room temperature at any time you may like it - even when it is sunny and warm during the daytime - but especially during the winter months.
All windows are equipped with new, modern mosquito netted roller blinds.  For your safety, all doors and windows have metal bars. A 50m long clothes line is located in the courtyard.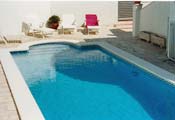 Family and friends can meet either at the large, maintained pool with its two areas for 12 lounge chairs and 2 comfortable terraces with seating room for 12 persons or at the 2 outside barbeques.
The 10 x 4 swimming pool is located off to the side and is approx. 2 meters deep at its deepest side. It is regularly cared for by the house master so that you will always be able to enjoy a swimming pool that is clean and maintained. Linens and towels can be rented from the house master for €3 per 10. All windows are equipped with new mosquito netted roller blinds.  For your safety, all windows and doors have metal bars.
> Additional photographs can be found in the gallery!!
General Note

230 m2 living area
Safe
Central Heating
Free WiFi

Bedroom

6 bedrooms, with accommodations for up to 13 people
6 bedrooms with double-beds, 1 infant bed, and 1 crib

Bathrooms

a total of 4 bathrooms
1 full bath, 2 showers, 2 separate WCs

Living Room

Dining Room

Dining Area
Children high chairs
Seating for 6 persons

Kitchen

4-panel stove Oven
Frozen food compartment
Dish washer
Barbeque
Refrigerator
Microwave
Washing machine

Exterior

Balcony
Barbeque
Terrace
12 Garden Chairs
12 Lounge chairs

Entertainment

CD-Player
Television
Radio
Satellite/Cable TV
Stereo System

Swimming Pool