Sub-divisions & Furnishings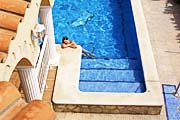 The "Felix and Max" beach villa is divided into 2 equally-sized villas. Each Felix and Max half-villa is its own stand-alone living unit with separate entrances and vehicle accessways. Each one also has its own lounge terrace from which you can jump directly into the swimming pool.
You can access the large pool and its pool-side showers from both sides.
Each parking area is separate and is big enough for 2 cars for each half-villa. Because the area is surrounded by a wall and has its own separate entrance, your car will be safe.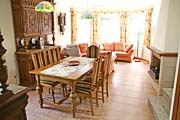 So that you can feel at home, the large living and dining roomis tastefully and caringly decorated with antique furniture and modern leather trimmings, lamps, curtains, and accessories.
The perfect kitchen includes all the necessary equipment and beautiful, luxurious, tableware.
The bathrooms are furnished with fine tiles and marble and some of them have double wash basins and bidets.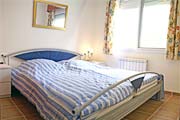 Your bedrooms have wide, firm double-beds (1.8 x 2.0m) and large installed closets, some with 5 doors.
You can open the aluminum and double glass windows because they all have mosquito netting. Beautiful, wrought-iron bars secure all windows and doors.
The first floor balcony allows you to bathe intimately in the sun.
The exterior terrace is furnished with chairs, tables, and umbrellas where you can prepare your meals on the outside barbeque.
> Additional photographs can be found in the gallery!
General Note

240 m2 living area
Safe
Central Heating
Free WiFi

Bedroom

6 bedrooms, in all
Sleeping accommodations for 12 persons
6 bedroom with double-beds, 2 cribs

Bathrooms

Living Room

Fireplace
Seating for 6 persons

Dining Room

Dining Area
Children high chairs
Seating for 6 persons

Kitchen

4-panel stove Oven
Frozen food compartment
Dish washer
Barbeque
Cooking area
Kitchenette
Refrigerator
Microwave
Washing machine

Exterior

Balcony
Barbeque
Parking Area
Terrace
12 Garden Chairs

Entertainment

CD-Player
Television
Cassette Recorder
Radio
Satellite/Cable TV
Stereo System

Swimming Pool